Description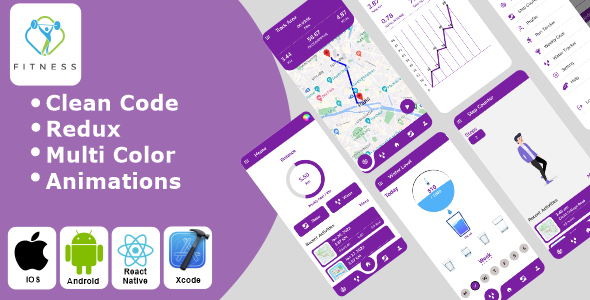 Android and iOS app from single source code
Fitness is a React Native Run Tracker, Step Counter and Water Reminder App for Multipurpose template.This has been built with React Native CLI.Fitness App UI is compatible with both Android and iOS. Code format is easy to use, clean and well formatted.You can quickly install and check our demo application.
The purpose of Water Reminder in Fitness App will help you track and increase your daily water intake by calculating how much water you need and tracking what you drink.Water Reminder is to provide uses your personal health information to determine how much water you
should be drinking each day and then tracks how well you keep up with that goal using graphs and animations.
Steps Counter is a pedometer and activity tracker. It shows you just how much you're moving in a simple, elegant way. Set a goal as you walk, the colors change to show your progress like a sunrise. Generally, these apps track your steps per day and stores the information in the app itself for further monitoring.
Run Tracker is a GPS based tracking app for people who want to keep track of your running fitness goals. The goal is to analyze performance and popularity.
Features
Design with React Native
For Android & iOS
Redux
Easy to Understand Code
Clean Code
Ready to Integrate
Lottie Images
Otp Input and Verification
Resend Otp
Color Customization as per your brand Color
Bottom Tab & Menu
Sweet Alert Modal
Button
App Header
Static Tabbar
Splash Screen
Welcome Screen
Home Screen
Login & Signup Page
Swiper Screen
Profile & Edit Profile
Help Screen
Step Counter
About Self
Age Screen
Goal Screen
Hight in CM and Feet Screen
Weight Screen
Week Calender
Water Level
Tracking Area
Map
Run Tracker
Weekly Goal Setup
Setting
Help
Activity & History
Graphical Representation
Distance Move Graph
View Coverd area in Map
Timer
… Much More
What you will get?
Fitness App
Full source code
Documentation
Free Version Upgrade